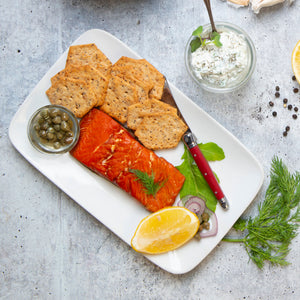 Discover the bold and delightful eating experience of sockeye salmon. Our Discovery gift is a combination of our most popular sockeye products, allowing you to sample sockeye in its most popular forms. This gift sampler is great for the new salmon diner or individual buyer, and it makes a convenient & easy gift. 
 2 individually packaged portions of Sockeye Salmon
The most well-known Alaska salmon species sockeye has a firm texture & bright red color. It is a rich source of iron, selenium, vitamins A, B, D and heart healthy omega 3 fatty acid. 
 5 packages of Sockeye Salmon Burgers (total of 10 individual burgers)
We prepare all our salmon burgers at our facility in Bloomsburg, PA.We use only the finest ingredients in our products, starting with sockeye salmon, and mixing in quality ingredients. All burgers free from flour, gluten, and other fillers!
Feta Dill- Sockeye Salmon, Organic Raw Cow Feta Cheese, Sea Salt, Black Pepper, and Dill. 
Spicy-Sockeye Salmon, Sea Salt, Cayenne Pepper, Fennel, and Paprika.
Garden Style-Sockeye Salmon, Sea Salt, Tomato Flakes, Black Pepper, Garlic Flakes, Minced Onion, Red Bell Pepper, Shallots, Dried Thyme, and Basil. 
Garlic - Sockeye Salmon, Garlic, Salt, Black Pepper, Chives, Parsley.
Sockeye Salmon- 100% Ground Sockeye Salmon.
 1 package of Traditional Smoked Sockeye
Our sockeye salmon fillets are brined in sea salt, then hot smoked over a mix of Maple and Alder wood creating a moist, smokey salmon treat ready for eating! You'll notice there's no sugars in our smoked salmon. Also made without nitrates, so keep it frozen until your ready to enjoy!