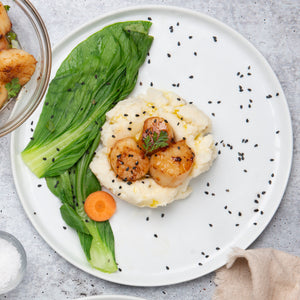 Start your next adventure in the kitchen with Alaska's most popular seafood products!  Our Adventure sampler makes it easy to expand your horizons and give Alaska seafood a try. A great sampler for the adventuresome chef or adventuresome foodie. 
2 individually packaged portions of Sockeye Salmon 
The most well-known Alaska salmon species sockeye has a firm texture & bright red color. It is a rich source of iron, selenium, vitamins A, B, D and heart healthy omega 3 fatty acid. 
2 individually packaged portions of Halibut 
One of Alaska's best known whitefish and a Wild For Salmon favorite, halibut is known for its sweet, delicate flavor and firm, flaky texture. It is one of the most versatile fish for cooking and compliments almost any flavor palette. A good source of potassium and magnesium.
1 package Alaskan Weathervane Scallops 
Renowned for their size, Alaska Weathervane scallops have a sweet flavor and tender, buttery texture. All scallops are shucked, sorted and frozen at sea to lock in that just caught freshness. Our scallops are dry packaged, which means they are free from added sulfates, water, or preservatives. Also a good source of potassium and selenium.