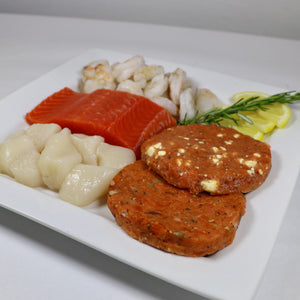 Meet the Wild for Salmon Family Seafood Box! We created this seafood delivery option with adults, hungry teenagers, and picky eaters in mind. This box is perfect for busy families and includes a variety of wild-caught seafood, shipped straight to your doorstep. The burgers are one of our best-sellers and quick to prepare. A sampling of both scallops and shrimp can be quick protein additions to your favorite pasta dishes or salads. Our recipes and the included Smokey Citrus Salt seasoning, from our friends at Spices Inc, make it easy for any busy parent to include seafood in their meal planning.
This box includes:

1 pack

 of Feta Dill Burgers (2, 4oz patties),

1 pack of Unseasoned Salmon Burgers (2, 4oz patties)

2.5 lb (6-7 portions) of Sockeye Salmon Portions (5-7oz)

1.2lb of Alaska Weathervane Scallops

1lb of Wild peeled and de-veined Shrimp

A Smoky Citrus Salt Seasoning Jar. 
The Family Seafood Box contains 14 meals worth of our favorite seafood options, all conveniently packaged for individual or family consumption. The sockeye portions thaw more quickly than a fillet. The unseasoned salmon burgers come two-to-a-pack. The white shrimp are already peeled and deveined. The scallops are shucked and frozen at sea, preserving their taste and high quality.
Feta Dill Burgers
Sustainably Harvested & Wild Caught in Bristol Bay, AK
Processed in the USA
Rich Flavor
Firm Texture
4oz patties, 2 patties per pack
Fat – 6g, 4oz
Protein – 24g, 4oz
Ingredients: Wild Alaska sockeye salmon, raw cow feta cheese, dill, sea salt, and black pepper
Sockeye Salmon Burgers
Sustainably Harvested & Wild Caught in Bristol Bay, AK
Processed in the USA
Rich Flavor
Firm Texture
4oz patties, 2 patties per pack
Fat – 2g, 4oz
Protein – 24g, 4oz
Ingredients: Wild Alaska sockeye salmon
Sockeye Salmon Portions
Sustainably Harvested & Wild Caught in Bristol Bay, AK
Processed in the USA
Rich Flavor
Firm Texture
Fat – 6g, 4oz
Protein – 24g, 4oz
6oz packages
Skin on/Boneless
Wild Caught Scallops
Sustainably harvested & Wild Caught in Alaska
Processed in  the USA
Sweet Flavor
Firm Texture
Shucked, sorted & frozen at sea
Wild Caught Shrimp
Processed in the USA
Mild Flavor
Conveniently packaged in resealable 1lb bags 
Peeled & Deveined