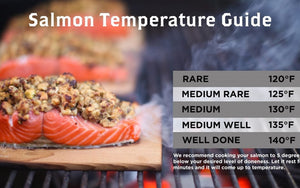 Cooking on fire and wood immediately re-connects us to our ancestry. To simpler times. And sharing that food – seasoned deeply with the flavor of wood smoke – builds a profound connection with the friends and family whom we value and hold dear. That is the Wildwood Grilling experience and why we love working with them! 
These planks pair well with salmon, other seafood, vegetables, and more. To add a spicy, fragrant flavor to food naturally, use these planks on the grill or in the oven.
Simply soak the plank for 15 to 30 minutes in hot water, 1 - 2 hours if in cold water, and place your favorite food on the plank, and place the food-loaded plank on the grill or in the oven. Each plank is 5"x 11".