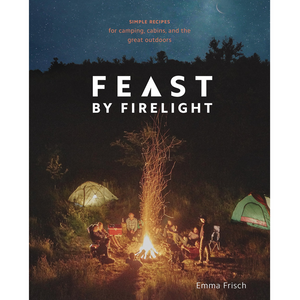 Our long time follower, and Wild for Salmon advocate Emma Frisch is a part of our Ithaca Buying Club. She has written a new book called Feast by Firelight: Simple Recipes for Camping, Cabins and the Great Outdoors which offers recipes that make cooking outdoors feel effortless. In her book she guides you on tasks like how prep food at home, and pack smart.
The book includes recipes for camp cooking as well as detailed menus, shopping and equipment she prefers to use. The book features 70 accessible recipes, some featuring our Wild for Salmon fish.
This is the perfect cookbook for anyone enjoying time outdoors, the photography will demonstrate how you too can be becoming a camping, cooking pro! 
To purchase just the right amount of salmon to try Emma's recipes at home, order the Feast by Firelight Seafood Box or buy both the book and product together here.